Mercy Muroki Bio, Age, Parents, Husband, Daughter, GB News
3 min read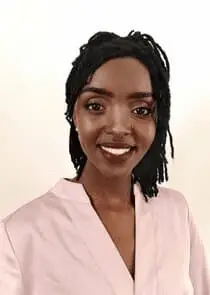 Mercy Muroki Biography
Mercy Muroki is a media personality serving as a Presenter at GB News. She co-hosts To The Point with Patrick Christys from 9 am – 12 pm on weekdays. She is also a Columnist for The Sun newspaper. Previously, she was a Senior Researcher at the Centre for Social Justice.
Mercy Muroki Age
Muroki is 27 years old. She was born in 1995 in Kenya.
Mercy Muroki Height
She is 5 feet 6 inches tall.
Mercy Muroki Nationality
She is Kenyan-British.
Mercy Muroki Education
From 2011 to 2014, Mercy attended Northampton College for her A Level. She also studied Politics at Queen Mary University of London from 2015 to 2018 graduating with a First Class. In addition, she completed a Master of Science degree in Comparative Social Policy at Jesus College, Oxford, from 2019 to 2021.
While at the Queen Mary University of London, Mercy was the Editor-in-chief of the Queen Mary Political Review-Journal. She was also the winner of Draper's Company Prize for outstanding academic achievement and the winner of Professor Lord Smith of Clifton Prize for best undergraduate work in the field of public policy/government.
Mercy Muroki Parents
Muroki was born in Kenya and moved to West London at the age of five. However, there is no information about her parents' identities and siblings.
Mercy Muroki Husband
Despite being a media personality Mercy hasn't revealed whether she is in a relationship or single. However, she has posted a few photos on her Instagram that send a different message.
Mercy might be in a relationship with Babalola Olatomiwa, GB News' Output Producer.
View this post on Instagram
Mercy Muroki Daughter
Muroki has a nine-year-old daughter. She became a mother at 18.
View this post on Instagram
Mercy Muroki GB News
Muroki is a columnist for The Sun newspaper, where she has expressed conservative views, including criticism of the Labour Party, which she has claimed demonizes black and female conservatives, as well as "anti-woke" views. She has also written for The Times, where she has argued that black Conservatives are demonized by the Labour Party, and that "politics of class and victimhood" hold back black youth.
Muroki was signed by GB News, which began broadcasting in June 2021. On the channel, she co-hosted Brazier & Muroki, Monday to Friday, 9 am to 12 pm, with veteran anchor Colin Brazier. In August 2021, Brazier & Muroki was replaced by To The Point, which Muroki co-hosts with Patrick Christys.
She was the youngest of the researchers appointed to the Commission on Race and Ethnic Disparities, which made the conclusion in 2021 that British society is not institutionally racist
Previously, Muroki worked as a Senior Researcher at the Centre for Social Justice. She also held a number of research roles within academic and third-sector organizations, including the Constitution Unit at University College London. Her work has focused on issues of social mobility and political representation and she has previously published academic research into ethnic and gender representation in local government.
Muroki was also a regular reviewer and commentator on Sky News and wrote for the Times RedBox column.
Mercy Muroki Salary and Net Worth
Her salary and net worth are under review.
Mercy Muroki Instagram
View this post on Instagram
Mercy Muroki Twitter
Also, Read; Simon McCoy Bio, Age, Height, Wife, Son, GB News, Net Worth