Kate Bolduan Bio, Age, Height, Parents, Husband, Kids, CNN, Net Worth
5 min read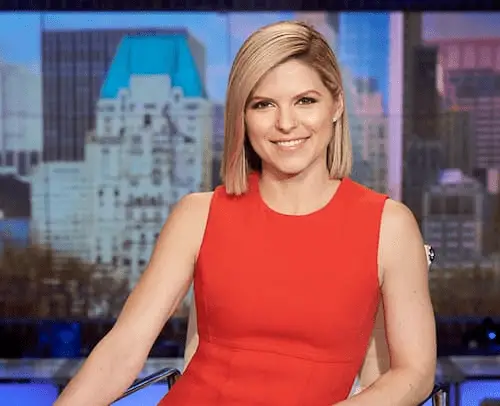 Kate Bolduan Biography and Wiki
Kate Bolduan (Katherine Jean Bolduan) is a media personality working as the anchor and host of CNN's "At This Hour." She joined the network in 2007 and she is based in New York City. Previously, she hosted "State of America" on CNN International. She also co-anchored "New Day" and "The Situation Room with Wolf Blitzer."
Kate Bolduan Age
She is 37 years old as at 2020. She was born on 28th July 1983 in Goshen, Indiana, United States.
Kate Bolduan Height and Weight
She is 5 feet and 7 inches tall and weighs 56kgs (123lbs).
Her body measures 34-26-36 inches (Burst-Waist- Hips). She also has blonde hair and hazel brown eyes.
Kate Bolduan Nationality
Bolduan is an American citizen.
Kate Bolduan Education Background
She studied at Goshen High School, a public high school in her home city. Later on she joined George Washington University. In 2005, she graduated Phi Beta Kappa and summa cum laude with a Bachelor's degree in Journalism and a minor in Political Science.
At the University she participated in volleyball and acted in the student theatre organization. She also spent time in Madrid, Spain during her studies where she learned to speak Spanish.
Kate Bolduan Parents and Siblings
Born in Goshen, Indiana, Kate is the daughter of Jeffrey Bolduan, a medical doctor and Nadine Bolduan, a nurse. She was raised alongside her three sisters and she is the third born.
In 2013, her mother was sentenced to one year in jail for 'nearly killing Paul Fought' after crashing into him while drunk driving. However, she asked for forgiveness from Fought who suffered a concussion, three brain-bleeds and broken bones in his arm and legs.
'I know how much pain Mr. Fought was in. I'm sorry and I beg your forgiveness. I don't expect to receive forgiveness,' she said in court.
Fought also testified and explained how he had lost his job and suffered constant pain following the accident.
'I almost died that day. I lost my job after 26 years and I am in constant pain. Nadine, I do forgive you. We did pray for you, Nadine. We continue to do so,' he said.
Her driver's license was also revoked for five years after she was released from jail.
Previously,  Nadine was charged with reckless homicide after her jet ski struck two children, killing a nine-year-old girl and injuring a 10-year-old in 1995.
However, the charges were dismissed after the court's prosecutor said he believed the actions were negligent, but did not constitute recklessness.
The case moved to the civil courts in Elkhart County and Nadine and her husband Jeffrey were ordered to pay the victims family more than $1 million.
Kate Bolduan Husband and Daughters
Bolduan has been married to David Gershenson since May 2010. Her husband works for The Carlyle Group, a company which specializes in corporate real estate transactions. He is also the son of Bruce Alan Gershenson, a real estate developer.
Just like Kate, David is also a graduate of George Washington University. The couple have two daughters, Cecelia Eve born in September 2014 and Delphine Esther born on December 23, 2017. They also belong to the Park Avenue Synagogue in Manhattan.
Bolduan is left-handed but plays all sports with her right hand. She loves ketchup, belly dancing, cereals and can waterski barefoot.
View this post on Instagram
Kate Bolduan CNN
Bolduan is anchor and host of CNN's "At This Hour," based in the network's New York City bureau. Previously, she hosted "State of America" on CNN International. She also co-anchored "New Day" and "The Situation Room with Wolf Blitzer." Bolduan played an instrumental role in the network's historic coverage of the 2020 Presidential Election amid the coronavirus pandemic, reporting live from the pivotal battleground of Pennsylvania.
In 2019, Bolduan conducted the first television interview with Democratic presidential candidate Mayor Pete Buttigieg and his husband Chasten. The same year she also secured an exclusive interview with the Syrian defector identified only by the codename Caesar about the human rights abuses he documented and smuggled out in secret. It was an interview credited by members of Congress as contributing to the passage of a sanctions package that bears Caesar's name. In 2018, Bolduan reported from Afghanistan with an exclusive interview with the top U.S. commander there, and secured CNN's first interview with Facebook co-founder Chris Hughes on his call to break up the social media giant.
Previously, Bolduan served as a CNN congressional correspondent covering the activities of the U.S. House and Senate. She also served as a general assignment correspondent, helping to lead the coverage of and was in the room for the historic Supreme Court arguments over the Affordable Care Act and also led the network's coverage of other Supreme Court cases like the Chicago gun rights case McDonald v. City of Chicago, the fight over religious freedom in Salazar v. Buono, the death penalty, violent video games, and campaign finance.
Bolduan joined CNN in 2007 as a national correspondent for CNN Newsource, providing breaking news coverage and feature reports for more than 800 CNN Newsource affiliates. During her time with Newsource, Bolduan covered the 2008 presidential election and traveled throughout the United States covering other national headlines. Before joining CNN Newsource, Bolduan was a general assignment reporter for WTVD-TV in Raleigh, N.C. She began her television career as a production assistant for NBC News and MSNBC in Washington D.C.
Kate Bolduan Haircut
On August 8, 2013 she wrote on her Twitter page, "Happy Haircut Thursday. @Michael20Sparks to the rescue! Grt seeing u! #thebest."
Happy Haircut Thursday. @Michael20Sparks to the rescue! Grt seeing u! #thebest http://t.co/4TjFOT3Pvq

— Kate Bolduan (@KateBolduan) August 8, 2013
Kate Bolduan Twin
There is no information on whether she has a twin or not.
Kate Bolduan Salary and Net Worth
She earns an average salary of $200,000 per year. She also has an estimated net worth of $3 million.
Kate Bolduan Social Media Accounts
Instagram
View this post on Instagram
Twitter
Also Read; Lyndsay Keith