Frederik Pleitgen Bio, Age, Parents, Wife, Kids, CNN, Net Worth
4 min read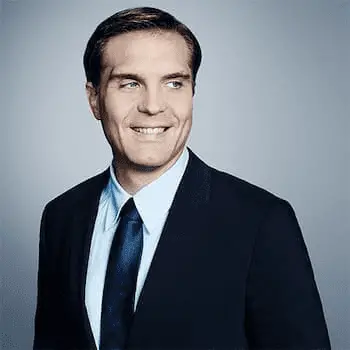 Frederik Pleitgen Biography
Frederik Pleitgen is a media personality serving as an anchor and senior International correspondent for CNN based in the network's London bureau. Previously, he worked in the political unit at German public service broadcaster ZDF. He also worked at a private news broadcaster N-TV as a reporter and executive producer.
Frederik Pleitgen Age
He was born in 1976 in Cologne, Germany. He is 45 years old.
Frederik Pleitgen Height
Pleitgen is 5 feet 8 inches tall.
Frederik Pleitgen Nationality
He is German by nationality.
Frederik Pleitgen Education
Pleitgen received a degree in North American Studies from the Rheinische Friedrich-Wilhelms-University in Bonn. He also earned a Master's degree from Free University Berlin where he submitted his master's thesis on traditions in American Journalism. Frederik spent one year studying at the School of Journalism at New York University and in 2004 received a fellowship for the Institute for Cultural Diplomacy in San Fernando Valley/USA. He is fluent in German, English and French.
Frederik Pleitgen Parents
He is the son of Fritz Pleitgen(father) and Gerda Lichtenberg(mother). Fritz, a German journalist, author and the President of the German Cancer Aid since March, 2011 was also a long-time director of the WDR. He was diagnosed with pancreatic cancer in June 2020 and was operated on in Heidelberg.
In an interview he said;
"I am very confident because the tumor was discovered at an early stage and was operable,"

"But my own situation also makes it more than clear to me how important it is to recognize cancer at an early stage."
Frederik Pleitgen Siblings
He has three siblings; two brothers Christoph and Benjamin and a sister Vanessa.
Frederik Pleitgen Wife
Pleitgen is married though his wife is not known.
my wife just bought an iPhone. We have joined the gang.

— Frederik Pleitgen (@fpleitgenCNN) November 14, 2009
Frederik Pleitgen Kids
He has two children, a daughter and a son. On September 26, 2019 during an interview, he mentioned his children.
'I have a 13-year-old daughter and an 11-year-old son. Both are at an age where they are more engaged with the world, and aware of the ways in which the adults are basically failing to solve problems that directly impact them. What kind of world will we leave behind for them? Are we really doing enough to save the environment and keep it a liveable place for them?'
Frederik Pleitgen CNN
Pleitgen is a senior International correspondent for CNN based in the network's London bureau. He also regularly anchors CNN International's flagship Amanpour show, standing in for Christiane Amanpour and interviewing various world leaders and other international newsmakers.
Between 2006 and 2014, he was CNN's Berlin correspondent, delivering insight into the political, economic and cultural influences of this key European power. He played a pivotal role in CNN's coverage of the German Bundestags-Elections in both 2009 and 2013, while in 2014 he reported on the 25th anniversary of the fall of the Berlin Wall, bringing his own family's experience of the event to bear in his coverage.
In addition, he has extensively reported on the ongoing conflict in Syria, traveling to Damascus, Homs, Aleppo and many other places in the war town nation. He was also the first international journalist to report from Damascus only days after chemical weapons struck rebel held areas in 2013 nearly setting off U.S. military intervention.
Over the years Frederik has covered stories including the Asian Tsunami in 2004, the death of Pope John Paul II and subsequent election of the first German pope, Cardinal Ratzinger, and now Pope Benedict XVI. He, reported from London during the July 2005 terrorist attacks and was dispatched to bring German audiences coverage of the tragic aftermath of both Hurricane Wilma and Katrina in the U.S.
Prior to joining CNN, he worked in the political unit at German public service broadcaster ZDF, and had previously worked at private news broadcaster N-TV as a reporter and executive producer. He also has spent time working for RTL and TV Berlin.
Frederik Pleitgen Awards
In 2011, Pleitgen was a key reporter during the unrest in the Arab world, reporting from Egypt as the revolution that eventually toppled the Mubarak government unfolded forming part of the team that won an Emmy for its live coverage of the protests in Cairo, and one of the first journalists to get inside the Libyan besieged city of Misrata.
He was also awarded with the 2005 Arthur F. Burns Fellowship, which he spent at the International Centre for Journalists in Atlanta, Georgia.
Frederik Pleitgen German Accent
He speaks German though his accent is heavy.
@fpleitgenCNN Great work Fred-Did you ever wonder if anyone w in Myanmar knew from your voice that it was you reporting for CNN ?

— Jon Regas (@Jonx13) November 19, 2010
Frederik Pleitgen Salary
He earns an average salary of $71,213 per year.
Frederik Pleitgen Net Worth
His net worth ranges between $1 to $5 million.
Frederik Pleitgen Instagram
View this post on Instagram
Frederik Pleitgen Twitter