Tyrone Francis Bio, Age, Height, Family, Wife, Sky News, Salary
2 min read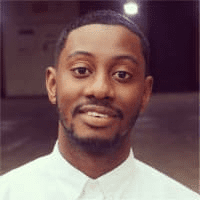 Tyrone Francis Biography
Tyrone Francis is a media personality serving as a Sports Journalist at Sky News. He was appointed as a Sports Producer in August 2022. Previously, he served as a Crime and Home Affairs Journalist at Sky News. Before that, he was Sky News' Senior News Editor.
Tyrone Francis Age
He hasn't revealed when and where he was born. Therefore, his age is unknown.
Tyrone Francis Height
He is tall in stature but his height is undisclosed.
Tyrone Francis Nationality
Francis is British.
Tyrone Francis Education
From 2003 to 2010, Tyrone attended Valentines High School where he also did his Sixth Form. Later, he joined the University of Westminster and graduated in 2013 with a Bachelor of Arts (BA) in Television Production and Media Studies.
Tyrone Francis Parents
Francis is an East Londoner. However, there is no information about his family background, parents' identities, and siblings.
Tyrone Francis Wife
Despite being a media personality Tyrone has managed to keep his personal life away from the limelight. Therefore, it is not clear whether he is married, single, or in a relationship.
He hasn't also disclosed whether he has kids or not.
Tyrone Francis Sky News
Francis is a Sports Journalist at Sky News. He was appointed as a sports producer in August 2022. He joined Sky News in September 2019 as UK Senior News Editor. The UK Senior News Editor is a pivotal editorial role at the heart of Sky News. This role involves driving the news agenda and ensuring the delivery of the very best content to all platforms by harnessing newsgathering and technological resources to deliver first-class coverage of home stories.
Responsibilities include making crucial hour-by-hour decisions that determine news stories and ensuring that they are told in the very best way, for television, mobile, radio, and other digital services.
In January 2022, Francis was appointed as a crime & home affairs journalist at Sky News.
Prior to joining Sky News, Francis served as Deputy News Editor at ITN from Jul 2017 – Sep 2019. His role included driving and shaping the news agenda for ITV News programmes across all platforms, both in the planning and on-the-day newsgathering processes. He was also involved in making editorial and logistical judgments and assigning resources in line with the ITV News agenda and acting up as News Editor when required.
Francis also worked as an Assistant News Editor and Broadcast Journalist for ITV News.
Tyrone Francis Salary and Net Worth
His annual salary and net worth are under review.
Tyrone Francis Instagram
He does not have an Instagram account.
Tyrone Francis Twitter
Also, Read; Mike Inouye Bio, Age, Height, Family, Wife, Kids, NBC Bay Area